Dear Manager:
Welcome to Juehui Light Source!
Today I would like to introduce our popular product: 365nm UV lamps to you!
Basics:
Strong UV curing lamp is made in high quality quartz, with strong UV radiation, the spectrum is 350nm-450nm, peak 365nm. UV curing lamp including mercury and argon,standard mercury can radiate enough UV energy up to 1000 hours.
About us:
Nanjing JuehuiLight Source Co., Ltd was built in Shanghai in1993, and it was called Shanghai Juehui Electric Source Co., Ltd, due to productionneeds and further expand ,we moved to Nanjing in the end of 2012 re-named as Nanjing Juehui Light Source Co., Ltd. We Juehui is a professional manufacturer of special light source in development, design, production,marketing and service, mainly engaged in IR radiation source, Vacuum equipmentIR heating module and UV radiation source etc.
Juehui Light Source supplies a wide rangeof uv curing lamps/ uv printing lamps for the printing and Low pressure uvlamps for the water treatment industry. Low pressure lamps, also known as highintensity discharge lamps and mercury arc lamps are used for the treatment ofwater, curing of inks and varnishes in the printing industry. Whichever modelUV system you are currently using, Juehui can supply or design a lamp to meetyour needs-in power ranges from 80 watts per cm up to 550 watts per cm and upto 4 meters arc length. Together with a selection of ceramic and metal endcaps, lead terminations can be altered to suit your equipment.
Our ultraviolet lamps are highly rankedwith unmatched reliability. They are distinctively designed for systemcompatibility, extended life and optimal UV output.
We aim to help our customers focus ontheir primary business by providing them with the best solution!
Providing "Quality Products, Excellent Service,Competitive Price and Prompt Delivery", we are now looking forward to evengreater cooperation with customers based on mutual benefits.
OEM Lamps:
The UV lamp made by Juehui Light Source couldwidely replaced the following system:
Abbess - Adnos - Advancing Aetec - Agfa -Aktilux - Amba - American Ultraviolet –Alpha Cure- Amjo - Aquatron - Aradiant -Argo Argos - Barberan - Beltron Berkey - Brewer - Burgess-BLV Cefla - Chambon -Colight - Colodry- Comco - Dinippon Distrilampe - DPL - Dubuit Dupont -Elsemann - Eltosch EYE - FDS - Gallus - GEW - Giardina - GS - Happa -Hackermack- Hanovia Honle Idealquartz - IST - IVT Iwasaki - Japanese StorageBattery-Kuhnast Kammann - Klemm - Kopack - Lignacon - Mark Andy - Muller - NatgraphNilpeter - Nolle - Nuarc - Offset - Olec - Osmo - ORC Parker - Philips Polytype- Primarc - Printconcept - SPS - SPE - Sanki - Schneider- Screen Serifasp -Spectral Starna - Svecia - Steinmann - Superfici - Sutter Siasprint - Technidry- Technigraf - Texel - Theimer - Theim - Van Keulen Uviterno - UV Products - UVTechnology - UV Systems - Ushio - Van Dam Wallace Knight and many more..
Lamp Photo show:
Applications:
UV curing lamp are widely used inindustry, printing, packing, electric, coating, disc making, metal component,furniture decorate material, optical fiber cable, it is ideal light source forprocessing mediated lipid products, UV printing ink, UV coating, UV paint, UVglue etc.
Print proofing

Paper
Metal Decorations

Business forms

Paper
Film

Paper

Scratch off
Varnish

Automotive

Adhesive bonding

Metal decoration

Pipe coating

China / Porcelain

Curing decorative adhesive transfers and screen applied inks/varnishes
Decorative Glaze

Laboratories

Lacquer

Printed Circuit Boards

Solder resist mark
Mark printing
Engraving and plating resist

Electronics

Fibre Optics

CD/DVD Production

Curing of printing inks
Curing of protective lacquers
Curing of DVD bonding resin
Packing and lead time:
Packing: Wood or case
Lead time: 10-15days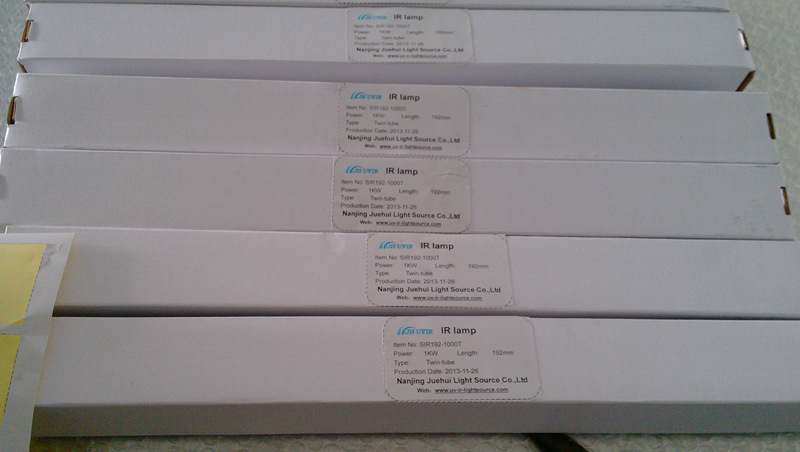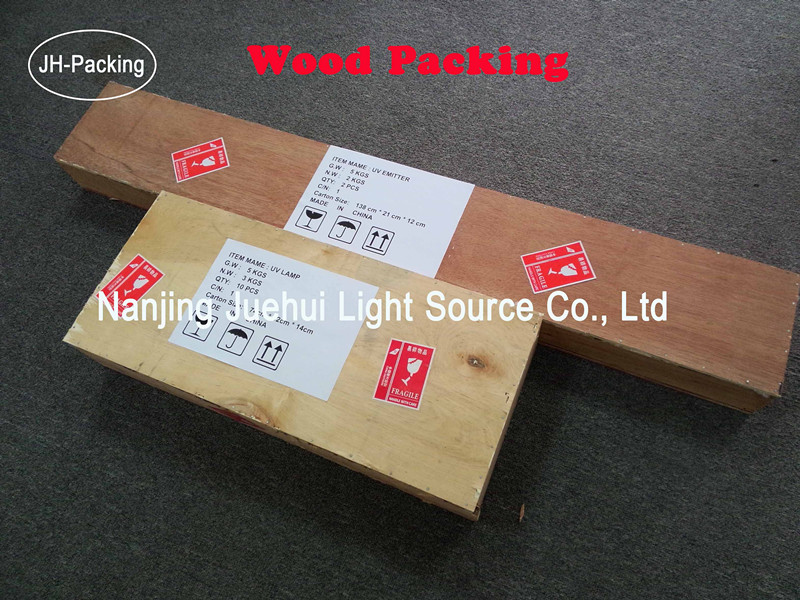 Thanks for viewing, if any questions, please send us an enquiry!
We are the manufacturer, so come and join with us! www.uv-ir-lightsource.com